Bishop Bill Hines
B I O G R A P H Y
New Covenant Christian Church, a prolific house of worship in Houston, is blessed to have at its' helm, Bishop Bill Hines, Jr. This profound bishop has led by example the sure path to successful living through faith and trust in the gospel of Christ Jesus. God's abundance is evident in the rapid growth and affluence in the church and community. His vision is to incorporate true prosperity in all aspects of daily living; Godly wisdom, peace, health, and finances. As bishop, he welcomes the veteran and novice believers with open arms and a glad heart.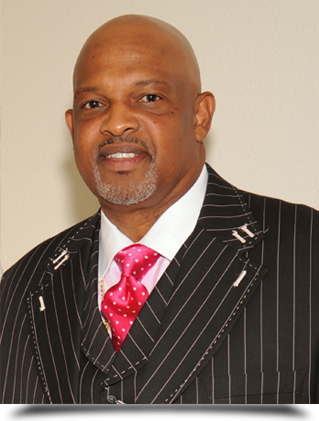 A graduate of Charles H. Milby Senior High, Bishop Hines has exhibited excellence in the quest for further education. He attended the University of Houston, Union Baptist Seminary, Cornerstone University, and March of Faith Bible Institute and holds a Bachelor of Theology and Certificate in Christian Counseling. Bishop Hines also received extensive training through the Houston Council on Alcoholism and Drug Abuse Center ~ those of which include: HIV/AIDS, Compulsive Gambling, Sexual Abuse, Cultural Awareness, and Ethics. He also completed Prison Fellowship Training back in the early 90's. His commitment to educational excellence is evidenced in his establishment of the New Covenant Christian Day Care and his passionate vision of the "future" New Covenant Leadership Development Academy and a Family Life Center within the Southeast community.
Most of Bishop Hines congregation is aware of a very defining moment that happened back in 1983 that literally changed Bishop's life forever. It was on Thanksgiving Day, that he went to three different relatives homes for dinner…. (Big mistake). At home later that night after going to bed at about one o'clock in the morning, his food hadn't quite digested and he began to regurgitate in his sleep. He had experienced this before in the past, but this time, it was different. This time he couldn't come out of it, and he began to strangle. He literally saw everything he'd ever done in his life, flash before his very eyes; and he knew he was about to die. It was only by God's grace and His great mercy towards him, that he didn't die that night. Had he died, he knew that he would have been lost throughout all eternity; because at that particular time in his life, he was not saved… He grew up going to church and was an active church member, but not saved. That night changed his life and set him on the path to finding out what he needed to do to be saved. It wasn't until January, 1985 that he came to know Jesus as his personal Savior and Lord….. and the rest is history!
In April of 2007, Apostle Gene A. Moore, Sr. announced to the New Covenant Christian Church congregation, that he would be turning the leadership responsibilities of Shepherds Watch International Fellowship (SWIF) over to Pastor Bill Hines, Jr.
Pastor Hines began serving as Executive Assistant to Bishop Moore and carried out the duties of teaching and training ministers, who serve their Sr. Pastors in the area of leadership, support, preaching and teaching, performing weddings and funerals.
On May 3, 2009 Bishop Moore along with Bishop John L. Hickman announced to New Covenant, that
Pastor Bill Hines would be elevated to the office of Bishop Designate. This elevation would then lead to the Consecration as Bishop.
As Bishop, Pastor Hines will serve as pastoral covering, give oversight and provide guidance to pastors and church's affiliated within the SWIF organization. His responsibilities will also include being a spiritual father and mentor amongst pastors and leaders.
This multitalented man of faith is also blessed to be the loving and devoted husband of Co-Pastor Cheryl Hines and the proud father of Billy Hines III.
Pastor Cheryl Hines
New Covenant Christian Church
B I O G R A P H Y
A native Houstonian and the youngest of her siblings, Pastor Cheryl Hines is a true asset to her mother Dorothy Hopkins, siblings, husband, son and New Covenant.
Pastor Hines is a Ross Sterling Senior High Alumni. She also furthered her education by attending Houston Community College as well as the University of Houston. God sent her into pastoral ministry equipped with a heart of compassion, strength of character and devotion to support her husband, Bishop Bill Hines Jr.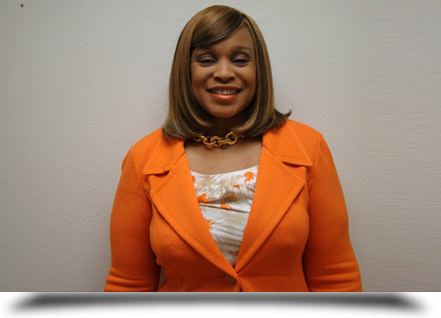 Her diligent dedication as Co-Pastor of one of Houston's profound Christian communities, New Covenant Christian Church, has set a precedent for success through the spoken Word of God. Her prophetic voice is seasoned with wisdom while her presence adds stability and strength. It is with out a doubt that her full potential has yet to be realized. And, if you're reading this biography with any thoughts of giving up or throwing in the towel… read on a little further, before you jump ship….
Miraculous healing from the hand of God….
In March of 2007, Co Pastor received a letter from her son, "BJ" [Billy Hines, III.], school stating "they'd tested him for Scoliosis, and that his test results were positive". They recommended BJ to see a medical doctor. When Pastor received the letter, she got a sense of urgency in her spirit and made an appointment for BJ right away, to see their physician. After meeting with the general practitioner, he then referred BJ to a "Specialist." A few weeks had passed on and it was time to meet with the specialist. He measured BJ's spine and confirmed that he did have Scoliosis. At that time, he had about a 20 percent curve in his spine. The specialist told the Hines family to come back after three months. Well, within those three months, BJ's condition had gone from a 20 percent curve to 27 percent curve. At that point, the specialist referred BJ to another doctor ~ Dr. Gary Brock. Dr. Brock is one of the best Pediatric Orthopedic Surgeon's in Houston, and he's a Christian. When the Hines family walked in to his office, they noticed he had scriptures on the wall about how God will make the crooked places straight.
Dr. Brock examined BJ's spine and the curve had gotten worse. He also told them some very, stunning news. He informed the Hines that this was a different kind of curve.He said his curve, curves behind BJ's heart and that most curves don't, and that only one percent of curves, curve behind the heart. He also told them that BJ had a curve at the bottom of his spine. So, on that day, the Hines learned that their son had two curves. Dr. Brock recommended that BJ be placed in a custom-made brace, designed to fit his body and was to be worn for twenty-one (21) hours a day, for seven days a week. He had to sleep in it, go to school, and do any/all activities while wearing the brace. After a month had passed, BJ had to see Dr. Brock for another appointment. When he went back, the curve had gotten worse! Dr. Brock wanted to have his brace adjusted, and so that's what they did.
In over 3 months, the Hines had to go back for BJ's appointment…. when they went back, the curves had gotten worse…. They went back for another appointment, and it had gotten worse!!! This time, the doctor said since his curves were quickly getting worse, they had to prepare BJ for surgery. Co Pastor told the nurse, she's believing God, for their son's healing. The nurse told the Hines that maybe this was God's way of healing him. That, was not how Co Pastor was believing God for her son's healing. You see, if BJ had the surgery, he would not be able to move his body in a normal capacity ~ the way he would ordinarily move.
At that point, Co Pastor became very low in spirit. It got to a point where she didn't want to go to church, and didn't want to hear an one else's problems. Now this was very big for her, because she loves church and God's people and always loved being in the 'House of the Lord." Co Pastor knew, she was born to do God's work. She'd told God how disappointed she was and didn't think she could do this anymore ~ she also told him she didn't want to go to church anymore. She'd gone to bed that night and to her surprise, God had given her 'sweet" sleep. When she woke up the next morning, she told God……… "I Still Believe!" God had given Co a word and that was to stop looking at her son's back and start reading Psalms every day. He told her to take one chapter of Psalms at a time and meditate it, every day. And that's what she did. This took place in November of 2007. When the Hines family went back to Dr. Brock's office in February, 2008 for the eighth time, they noticed how the doctor was taking such a long, long time to meet with them. Finally, when he came into the waiting room ………., he walked with a smile on his face and his face said it all!!!!!!!! He told them that BJ's spine was straightening up. They went back to the doctor three more times, and each time his spine has gotten better and better.
Their son no longer had to wear his brace ~ it wasn't the brace that did it, it was nobody but the Lord!!!!!BJ has been out of the brace for about a year and it is still getting better. The last time they went to the doctor was July 7, 2008. He told them not to let anyone cut on him because he is doing just fine.
Co Pastor truly gives all the glory to God. When you are at our lowest, that is when God is at his best! Never give up on God. Their son was two 2 inches away from having to have a life altering operation, but God stepped in and said "Not so"...
It is evident that Pastor Hines is a true woman of God through the loving way she supports her husband and their son Billy Hines III. She is a true example of a virtuous woman.