About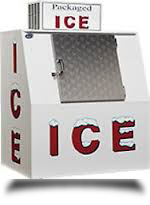 In 2012, the Governor of the State of Texas honored JL Ice and JL Refrigeration with a prestigious invitation to The Governor's Business Forum based on Outstanding Business Practices and Achievements in the Community. The same honor was bestowed upon the companies this year, as Jimmie Lopez, Jr. is a scheduled speaker at the upcoming forum this October 2013.
Scope and Geography
JL Ice manufactures its ice at its plant in Crystal City, Texas and provides service to hundreds of customers in a 300 mile territory. Distribution areas extend from Loop 1604 in San Antonio along corridors to the west, south and southeast (from Del Rio east to Kenedy, and from San Antonio south to Laredo, Freer, Alice and George West).JL Ice is fully-licensed and operates under full compliance with the guidelines of
the Texas Department of Health (Food Manufacturers License # 1005128) and the Texas
Commission of Environmental Quality. JL ICE has its water tested every month by the San
Antonio River Authority to ensure that our ice is made from the cleanest, freshest, purest
water available.