*Tractor Make and Model Number --- $400.00 for steel painted and aluminum canopies.
*ROPS Model Number if Possible
*Shipping Address: Call in or E-mail your zip code and we will calculate shipping cost.

*Provide Phone Number

*Provide E-Mail Address

*Sizes: 48" X 50" and 48" x 58"—both sizes come at same price. Steel canopies are powder coated finished to match the color of your tractor. The benefit of a powder coat finish is that it gives a more durable longer lasting finish. Steel canopies are made with Galvaneal Coal Roll Steel. The benefit to this is that if the powder coat finish is scratched through to the metal by tree limbs or other objects, the steel will not rust.

*Insulated Liner to Eliminate Vibration, Noise, and Heat Transfer

*All Hardware Provided

*No Holes to Drill to Install Tractor Canopies (Old tractor models with old style ROPS may require bolting into ROPS. For more information call 850-762-3221.)

*F.O.P.S. Certification

*Color Matched for Your Tractor or Diamond Tread Plate Aluminum

*Comes With Warranty and Satisfaction Guaranteed

*For More Information, Call 850-762-3221
*All Canopies are $400.00

*Powder Coated Steel Canopy Painted to Match your Tractor or Aluminum Canopy

*Diamond Tread Plate to Match any Tractor Make and Model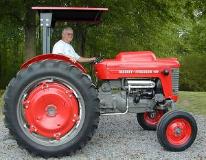 This 1958 MF 50 belongs to Mr. Wallace Cook of Union Grove, Alabama. He bought the MF 50 in pieces and spent the next 2 1/2 years rebuilding and painting the MF 50 back to its factory look. He topped the tractor off with a new Masters Farm Supply Tractor Canopy attached to his own ROPS design. No drilling was necessary for installing this canopy.