Control Who Goes In and Out
BCS Installations Inc. provides a wide variety of access control solutions to fit any environment, from a small office with one or two doors to a large scale system spread out over a wide geographical area.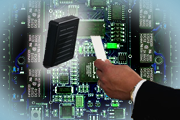 Whatever your need may be, we can provide you with the most cost effective and reliable solution. With access to the latest cutting edge technology the industry has to offer, be it biometrics, card access or parking control, we can provide it, install it and maintain it.
Your business is dynamic, always on the move. Employees and visitors travel in, out and around your facility with relative ease – exposing them to sensitive information and valuable business assets. Or are you required to meet federal regulations? How do you control who goes where and decide when they are permitted to be there? BCS Installations and Sielox Pinnacle Access Control Solutions give you a secure, convenient and affordable solution to a complex and potentially costly problem.
Call us today to schedule a FREE security analysis at 732-534-9776.
We Have Access to the Following Manufacturers and Others not Shown