Various LED Signs We Have Provided
UPSTATE DIGITAL SIGN SALES, LLC. in Greenville, SC has everything you need for all your digital signage needs. Our LED signs can be in various sizes and pixel density. Check out images of digital signage we have produced.
** Please note: Gallery is not viewable in Internet Explorer. We recommend using either Google Chrome or Mozilla Firefox.
Why Advertise With LED Displays?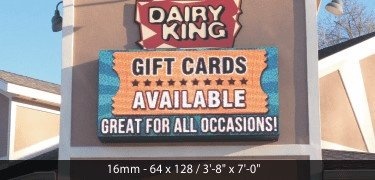 Your ads are targeted directly to your audience. It's a one-time investment for on-premise targeted advertising that advertises and brands your organization with custom content that speaks to your community about WHO you are, WHAT you do, and HOW you do it better. You can change your messaging as often as you like from anywhere, 24 hours a day, 365 days a year.
Print, radio, and TV advertising are one-time expenses for ads that do not change and only appear once. They even cost more per exposure to a broader audience that, hopefully, is interested in your organization. LED displays, however, let your audience see or hear your ad, and know where you are located.
To sum up how effective LED displays are, they are advertising directly to the people passing your business every day. An LED display is personable and offers dynamic information. It also invokes impulse action or purchasing. By keeping your messages fresh and interesting, your sign will be a landmark in your community—a sign that everyone will look forward to seeing every day.
LED Signs From Us Come With


Let's Build Your LED Message Display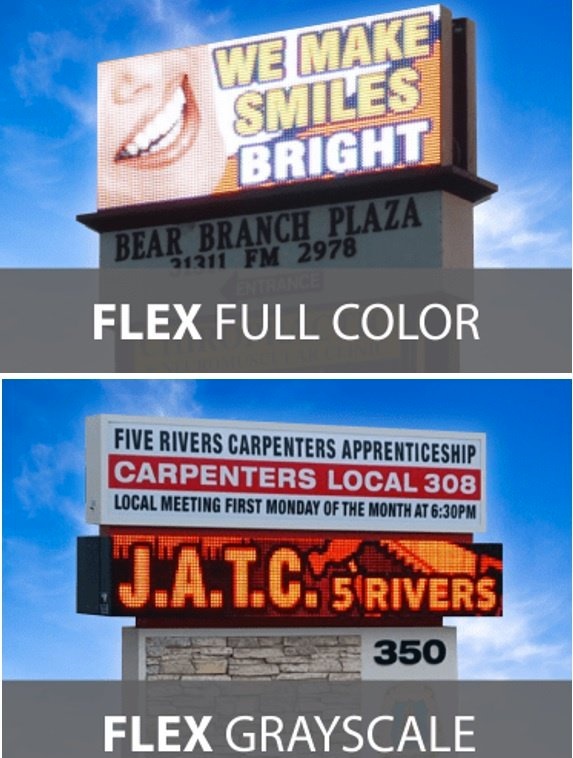 Grow with our FLEX LED Sign Series
The FLEX Series is designed to grow with your organization. All our available pitches from 5mm to 24mm fit into one universal module size.
Available in FULL COLOR or GRAYSCALE (Red or Amber)
Upgrade Easily: Our brilliant LED displays connect with your target audience every day with dynamic content to help increase traffic and boost sales. As you grow, the Flex Series grows with you, giving you the flexibility to upgrade to a higher resolution or to full color by simply swapping out the FLEX-V LED modules and adding power supplies; no need to install a whole new display or get a new sign permit.
Ultra Low Power: Our redesigned power configuration and hardware provide significantly lower power consumption; requiring 70% less power when compared to leading manufacturers. Ultra low power means you can have the display installed on an existing low amperage circuit, or the flexibility to use solar power.
As your business grows, so can your LED display. Easily upgrade your existing 24mm display to a 12mm higher resolution display.
Today
24mm - 50 x 100 pixel matrix - 5000 pixels
2 Years Later
12mm - 100 x 200 pixel matrix - 20,000 pixels


Download Our LED Display Specifications Sheet


LED: Display Resolution vs Viewing Distance
Viewing Distance
Around 50ft (Good for walking traffic)
50-100ft
100-250ft
250+ft
Resolution (Pitch)
5mm
6mm
8mm
10mm
12mm
16mm
20mm
24mm
Module Matrix (Building Block)
48x48
40x40
30x30
24x24
20x20
15x15
12x12
10x10
Pixels per Square Foot (Density)
3,716
2,581
1,452
929
645
363
232
161
Dimensions (Per Module)
9.45"x9.45"
9.45"x9.45"
9.45"x9.45"
9.45"x9.45"
9.45"x9.45"
9.45"x9.45"
9.45"x9.45"
9.45"x9.45"


Your Powerful LED Display Cloud-Based Software


LED Display Photo Gallery
Click on pictures below to enlarge.
Inquire About Our Digital Signage Today
For all your digital signage needs, UPSTATE DIGITAL SIGN SALES, LLC. has you covered. We are here to help your organization reach your intended audience through the digital signage we offer. Contact us today for your personal advertising solution with an LED display.