Welcome to Fun On Wheels
And….welcome to Chincoteague Island, VA.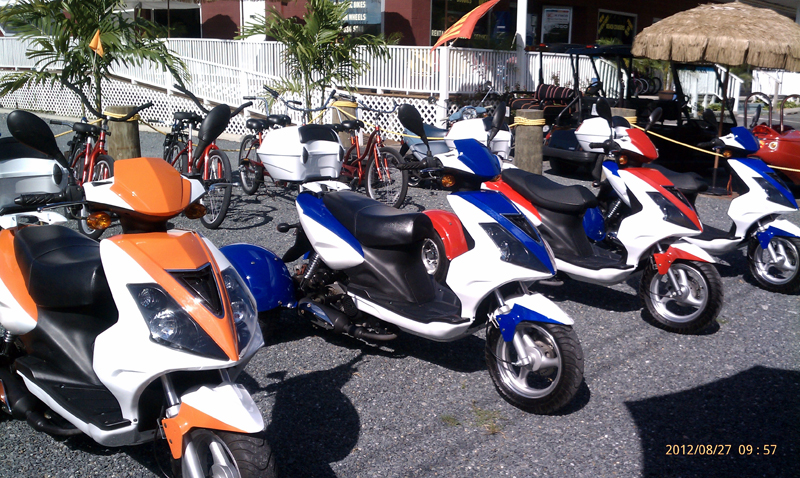 During your stay, be it a day, a weekend or longer, we at Fun on Wheels aim to make your trip fun and we do it on wheels.
Biking – Hiking – Rentals – Sales … FUN
With more than 15 miles of biking and hiking trails, you'll want to rent a scooter, electric bike or other recreational vehicle to explore the sights and sounds of Chincoteague Island. Our island is also small enough that you can use your rental bike just to get around.
We rent and sell the top brands in leisure transportation including:
Scooter Rentals
Bike Rentals
Golf Cart LSV Rentals




Electric Bike Rentals
Buggie Rentals 2, 4 and 6 person
Scooter Sales and Service



We also rent:
Child Carriers
Bike Trailers (for Children or Beach Supplies)
Tandems (Bicycle Built for Two)
Tag a Longs




Jamis Bikes
Bike Baskets
Bike Locks



Reserve your rental today or just stop by. We're happy to meet all your Fun On Wheels desires.
Fun On Wheels is easy to find. We are centrally located on Chincoteague Island at the corner of Maddox Blvd and Chicken City Rd.
Chincoteague Island VA
As proud residents of Chincoteague Island VA, we like to promote our little slice of heaven. We're sure the travel and tourism people at
www.chincoteague.com won't mind us borrowing some information so we can brag about our island. We encourage you to visit
www.chincoteague.com for more information, but in the meantime, here's a brief preview of what you would see.
Are you ready for a change from the big city beach resorts? In Chincoteague there are no high rises, board walks, or traffic jams. Chincoteague Island is a serene, yet fun filled, tourist destination. Chincoteague Island is Virginia's only resort Island. Located on Virginia's Eastern Shore, Chincoteague is within easy reach from all major cities on the mid-Atlantic seaboard. Chincoteague is the gateway to the Virginia portion of Assateague Island, home of the famous Chincoteague Wild Ponies. Chincoteague offers a relaxed atmosphere and the beauty of unspoiled nature. From relaxing on the beach to viewing a spectacular sunset over the Chincoteague Bay, there is never a shortage of things to do in Chincoteague. We hope that you will fall in love with our Island, the way so many others already have.
Chincoteague Island Activities
Visitors often remark that they are surprised that there is never a shortage of things to do on our small island, seven miles long and three miles wide. Chincoteague is uniquely situated to offer a wide array of activities. Chincoteague Island lies right next door to Assateague Island, with the only publicly accessible beach between Ocean City, MD and Virginia Beach, VA.
Biking and Hiking
Chincoteague offers a great place to take off with a bike or walk. Everything is close and has the perfect blend of small town and wilderness. Many of the roads on Chincoteague have sidewalks. Chincoteague also offers a fantastic, paved nature trail on Hallie Whealton Smith Drive, which is located off of North Main Street, near the High School. The Chincoteague Bicycling Advisory Committee is taking great strides towards enhancing the recreational experience of the bicycling public on Chincoteague Island. Hiking and Biking on Assateague Island offers many views of nature that you would not see anywhere else. There are 15 miles of trails that wind through the marshes and forests and including a path to the Assateague Lighthouse.
Boating
Boating is one of the more enjoyable pastimes on Chincoteague. If your interests are Fishing, Water-skiing, or just wanting to enjoy the water on a peaceful summers evening, the options are here for you to use your own boat or rent one. With the purchase of a City Boat Sticker, anyone wishing to put in their own boat will have access to 3 Town supported public boat ramps. Boat ramp stickers can be purchased at the Town Office, Police Station, and from the Harbormaster. Guided scenic/nature boat tours are also available.
Crabbing
Crabbing on Assateague and Chincoteague Islands is one of the favorite pastimes for both the local residents and visitors alike. The preferred method for crabbing is with a net and baited line. All of the needed materials can be purchased at any local fishing shop, or hardware store. Most people like to use old pieces of raw chicken, tied to a line with a weight, sitting at the bottom of the water. The crabs will try to catch the bait and are lured into your waiting crab net. Cook the crabs by steaming them in a large crab pot with a generous amount of Old Bay Seasoning, and you can enjoy one of the Eastern Shore.
Clamming
Clamming is another water pastime that is also plentiful on the Eastern Shore. The favored method is raking while wadding in generally shallow water. The best times being during the low tides. Another way is walking in the sand at low tide and 'signing' them. That means looking for the little keyhole indentations in the sand. By digging just under the surface of the sand, you will find the clams.
Island Nature Trail
The Island Nature Trail is located along both sides of Hallie Whealton Smith Drive. The land where the trail is located represents some of last large tracts of undeveloped land on Chincoteague. The trail is a place where you can see wildlife in its natural habitat and it provides a safe haven for people to walk, run, ride their bike, bird-watch, or just enjoy the natural side of Chincoteague. To the south is an accessible 0 .7 mile long paved loop path complete with benches, and an interpretive sign display. Pets are allowed along this portion of the trail. To the north is a natural surface trail that loops approximately 0.45 miles through pine forest and glade. No pets are allowed on this portion.
Outdoor Parks
Chincoteague Island offers several beautiful parks for the enjoyment of its residents and visitors. We highly recommend taking advantage of these well maintained spaces while you're on vacation.
Robert Reed Downtown Park - The Town of Chincoteague, with the support of local businesses and a network of volunteers, is involved in an ambitious revitalization project in the downtown area. The Town has accumulated nearly $1.7 million in various grants and local matches toward the project. One major phase of the revitalization involves the development of a new waterfront park. This park, located on the waterfront in the heart of downtown, offers recreational opportunities, a site for festivals and events, and a beautiful view of sunsets. Annual events such as the "Weekend of the Islands" and the "Chili Chowder Cook-off" have already begun drawing as many as 1,500 visitors. There are currently 10 boat slips available for rent to transient boats that are in excess of 26'to 50' in length. The park is ADA accessible, inclusive of boat slips.